There are three maps located in The Natural World that show the five main areas within the dream-scape. They can be found in the southwest (x=-222279, -305093), southeast (x=267623, y=-260842) and northeast (x=240000, y=300000) corners. The map shows the location of five different areas in the dreamworld. The key to the map can be seen below.
Speculation
Edit
Upon closer inspection, the map makes some sense. It shows the Pit & Temple, which has a passageway to Bright Moon Cottage. In The Natural World (where Bright Moon Cottage is located), you can see crudely pictured trees forming a box, where Pit & Temple is hidden within the trees.
In one area of The Natural World, you can see a sunken Violence District. It is possible to see a river coming from The Natural World. The water appears to flow into the dark area around Violence District, causing it to overflow and flooding it. This may explain why The Natural World's landscape is elevated over water.
As for Happy Town and Violence District, they are on opposite parts of the map. This may symbolize the opposing forces of good and evil.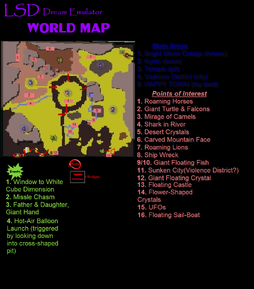 Community content is available under
CC-BY-SA
unless otherwise noted.