Location
Happy Town
HAPPY TOWN

Connections

 

Objects

Gray Man
Extremely Common

Stage ID
Happy Town is a brightly colored area within the game. This area contains many strange monuments and abstract shapes. Many of these objects can lean a dream toward being an "upper" or "downer" dream (see textures). Several shapes and monuments are linked to specific other areas, both inside and outside of Happy Town. A small octagonal castle is located in its center, lead to by a path lined with trumpeters. A train track also winds throughout the area, complete with a functioning train and train tunnel. There are small mazes with knee-high walls. The textures in this area are unusual as they change less than other areas. Each texture in Happy Town makes a unique footstep noise while walking.
Other Information
Edit
There are several hidden messages written on the ground. Tiles are lined up to spell words such as HAPPY, SKY, SEX and LSD.
Some players have reported that The Gray Man appears more often here. This has not been confirmed, however.
When exploring Happy Town, various objects can appear right in front of the player without warning.
Happy Town is one of the main locations connected to the Natural World via tunnel.

When looking at the walls of Happy Town in the Natural World, they appear white and metallic, much like how they appear on the inside when the Kanji (Logic) textures are active.

Happy Town is always spelled with all-caps in the game's documentation.
In Happy Town, you can find a Ferris wheel. Upon touching it, it will immediately link you into Sun Faces Heave. Sometimes, you can see a wheel, which starts up a secret cut scene. But if you bump into it, you will be statically linked to Sun Faces Heave. Strange, but the Ferris wheel isn't an object.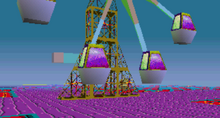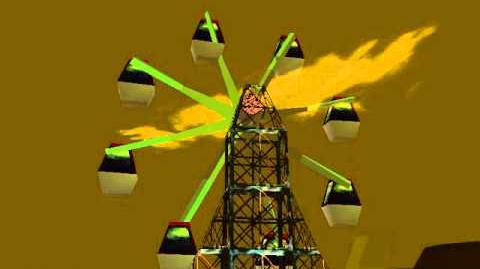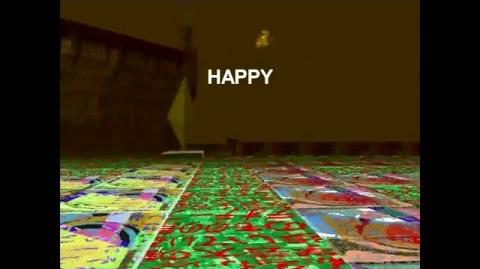 Community content is available under
CC-BY-SA
unless otherwise noted.